The Science Ambassador Scholarship
The Science Ambassador Scholarship
How To Apply
Film a three–minute educational video of yourself explaining a STEM topic you're passionate about. You must be a high school senior or an undergraduate college student to apply. To view examples of applications, check out our previous winners. Your video should be:
A mini–lecture, not a personal statement. Pretend you're a lecturer speaking to a class. Teach us something.
Clear, creative, accurate, and a demonstration of your passion for the subject. We value novel, memorable approaches to topics. Your video doesn't need to be fancy or high–tech. Production value is not a factor.
Three minutes or less in length.
About any STEM topic, not necessarily your field of study. Pick a topic that excites and fascinates you. We don't need to hear about the latest thing in science news (unless that's your jam).
Scientifically accurate. We encourage you to cite the sources used to research your topic. Ideally, this would be in a slide or frame at the end of your video.
Uploaded to YouTube and marked 'public.'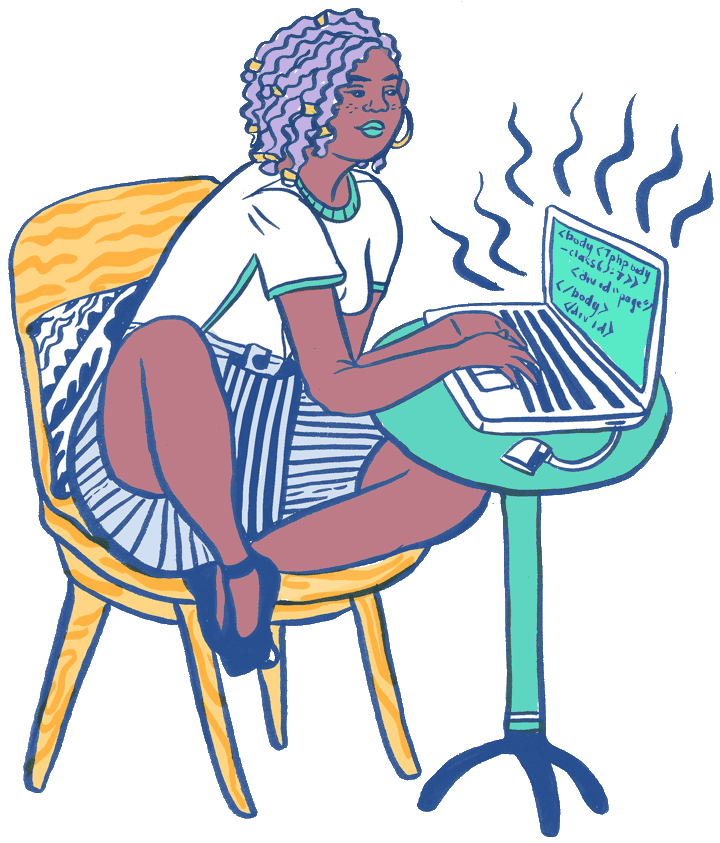 Please note: Part of being a science communicator is leading by example. If applicable, please film your video in a way that complies with your local safety regulations related to COVID-19.
An advisory board of women who hold higher degrees and work in a broad range of STEM fields will review applications and select finalists. Finalists will be notified in early 2021 and will move onto the next round to submit additional materials. A winner will be announced in April 2021.
Frequently Asked Questions
When's the final deadline?
Submit your video by December 14th, 2020 at 11:59PM CST. Late video submissions will not be accepted, no exceptions.
When do we find out who won?
We'll announce the winner in April 2021.
Do I have to be a U.S. Citizen to apply?
You do not need to be a U.S. citizen to apply. You do need to attend college (or plan to attend college) in the United States or a United States Territory.
Does my video have to be about my field of study?
Nope! You can explain any STEM topic you find exciting. Remember to deliver a mini–lecture, not a personal statement.
I made a mistake in my video. Can I try again and edit my application?
Yes! Once you submit your application, you'll get an email that will allow you to make edits on your application until 11:59PM CST on December 14th, 2020.
Can I apply if I'm a graduate student?
No. The Science Ambassador Scholarship is only open to undergraduate students and high school seniors.
Which fields of study are eligible?
All fields within science, technology, engineering, and math are eligible. For a full list of STEM fields, click here. STEM must be your major field of study (not your minor).
I haven't decided on a major, but I'm definitely going to study a STEM field. Can I still apply?
Yes, you can apply, as long as you will study a STEM field for the entirety of your undergraduate career.
I work in a school. How can I share this opportunity with my students?
You can link to ScienceAmbassadorScholarship.org or download this flyer.
How can I help support the Science Ambassador Scholarship?
You can spread the word to as many eligible students as possible. Also, you could grab the Cards Against Humanity Science Pack. All sales fund the scholarship.
Who drew all the amazing illustrations on this site?
The brilliant Ashley Lukashevsky.
Meet the Winners
Every semester, we ask winners of the Science Ambassador Scholarship to create new videos explaining STEM topics they're learning about in school.
Get In Touch
Email
Twitter
Instagram
YouTube
The Science Pack
Our goal is to highlight outstanding women in science, technology, engineering, and math. To date, we've funded five full–ride scholarships and created a community of mentors and students who work in STEM fields.
Scholarship funds are provided from Cards Against Humanity's Science Pack, a 30–card expansion pack co–authored with Saturday Morning Breakfast Cereal's Zach Weinersmith and Bad Astronomy's Phil Plait.
 $1,316,186  raised so far
Meet the Judges
Advisory Board Co-Chairs
Prof. Veronica Berns Department of Chemistry, Northwestern University
Kathryn Havens M.D. Medical College of Wisconsin, Kern Institute
Jen Indovina CEO of Tenrehte
Prof. Tami Lieberman Institute for Medical Engineering and Science, MIT
Julie Nadel, PhD Senior Program Manager, Johns Hopkins University
Prof. Esther Ngumbi Department of Entomology; African American Studies, University of Illinois at Urbana Champaign
Advisory Board
Leigh Abrams, Ph.D. Senior scientist R&D, Honeywell UOP
Brittany Allen-Petersen, Ph.D. Assistant Professor of Biological Sciences, Purdue University
Dr. Laurie Bayet Department of Psychology, American University
Amy Boddy Department of Anthropology, University of California Santa Barbara
Dr. Diana SM Buist Director of Research and Strategic Partnerships; Senior Investigator; Kaiser Permanente Washington Health Research Institute, Seattle, WA
Elena Chartoff, PhD Associate Professor, Dept. of Psychiatry Harvard Medical School
Dr. Amanda Childers
Laleh Coté STEM Education Specialist, Lawrence Berkeley National Laboratory; Doctoral Student, UC Berkeley
Dr. Emily R. Davenport Department of Biology, Penn State University
Molly Melissa Foote, Ph.D.
Dr. Irene Gallego Romero School of BioSciences, University of Melbourne
Mallory Hacker, PhD, MSCI Assistant Professor of Neurology, Vanderbilt University Medical Center
Kathryn Henley PhD
Dr. Jennifer Hirsh PharmD, M.S.
Dr. Renée Hlozek Department of Astronomy and Astrophysics & Dunlap Institute, University of Toronto
Dr. Christina M Ignarra Project Scientist, SLAC National Accelerator Laboratory
Dr. Michelle Ann Kline Centre for Culture and Evolution, Brunel University London
Sarah Kolitz, PhD VP Translational Medicine, Immuneering
Annalena La Porte, Ph.D. Sr. Scientist, Pfizer
Dr. Tara Mandalaywala Department of Psychological and Brain Sciences, University of Massachusetts Amherst
Professor Lisa Manglass Assistant Professor of Physics, Francis Marion University
Heather M. Maranges PhD, Department of Psychology and Social Justice Centre, Concordia University
Lindsay Marjoram, PhD Associate Study Director, Powered Research, LLC
Debbie Gale Mitchell Assistant Teaching Prof., Department of Chemistry & Biochemistry, University of Denver
Sarah Mitchell, Ph.D. Assistant Professor of Chemistry and Biochemistry, Loyola Marymount University
Prof MurphyKate Montee Department of Mathematics and Statistics, Carleton College
Meghan (Morrison) Joly, PhD Project Manager, Vanderbilt Institute of Clinical and Translational Research (VICTR), Vanderbilt University Medical Center
Prof. Christine Sierra O'Connell Department of Environmental Studies, Macalester College
Dr. Nadija Rieser Emergency Medicine Resident at Advocate Christ Medical Center
Dr. Molly Rossow Chapin Hall at the University of Chicago
Kate Sippel, DVM, DACVR Senior Medical Manager IDEXX Laboratories
Anna Turetsky, PhD Principal, Venture Investments, The Mark Foundation for Cancer Research
Sharda Umanath, PhD Department of Psychological Science, Claremont McKenna College
Dr. Kelly Weinersmith Adjunct Professor, Department of BioSciences, Rice University
Karina Wernecke Systems Manager, McMaster-Carr
Dr. Kaitlin Stack Whitney Science, Technology & Society Department, Rochester Institute of Technology
Melissa Wilson, PhD School of Life Sciences, Arizona State University
---
as per our monitoring this Story originally appeared
* : ) here → *
{feedtitle}

The Science Ambassador Scholarship