Silicon Valley Office Space Race Gives Way to New Campus
Silicon Valley Office Space Race Gives Way to New Campus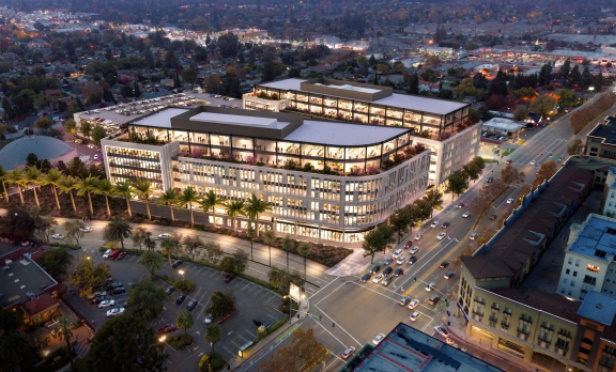 The 1 million-square-foot complex on 13 acres, Santana West, got underway on its first building this month.
SAN JOSE—Silicon Valley's competitive appetite for office space is leading tech companies and other tenants to seek out ready-made campuses. According to Newmark Knight Frank which is leasing One Santana West, the Silicon Valley/South Bay market posted a seventh straight quarter of positive net absorption through the most recent quarter.
The latest project to start construction is Santana West. The fully entitled 1 million-square-foot complex on 13 acres got underway on its first building this month with a 360,000-square-foot headquarters quality design by Studios Architecture. Santana West is developer Federal Realty's biggest expansion at the iconic Santana Row mixed-use live-work-play property since its opening in 2002.
As Federal Realty's Jan Sweetnam, executive vice president, explains, Santana West is all about the employee experience, providing both a place where people enjoy working and a place that's efficient, productive and healthy from the employer's perspective.
"We took great care to make Santana West what companies are seeking today as they compete for talent," Sweetnam tells GlobeSt.com. "With features like exposed interior concrete surfaces, 13-foot clear height ceilings, expansive outdoor terraces and inviting plazas where employees can meet friends or collaborate with colleagues, Santana West simply continues our vision for thriving, and a walkable urban village which centers around Santana Row's shopping-dining-entertainment experience. Companies have been vying to move into our amenity-rich campus over the years, and it's exciting to bring this new opportunity to market."
With 54,000-square-foot floorplates, One Santana West is drawing significant interest even as the construction site is abuzz with workers and machinery. One Santana West's landscaped courtyards, tall floor-to-ceiling heights and large floorplates offer the flexibility demanded by today's employers, say reps for Studios Architecture.
"You've created a special sense of place here at Santana Row, and we look forward to seeing more of that with Santana West," San Jose mayor Sam Liccardo told attendees at its groundbreaking.
Splunk, which leased both 500 and 700 Santana Row, is preparing to move into the 700 building later this year.
The planned development rezoning from the CG general commercial zone district to the CP planned development zone district allowed for up to 970,000 square feet of office space, 29,000 square feet of retail space, re-use of the Century 21 Theater building, and the re-alignment and vacating of Olsen Drive. The project included the demolition of the Century 22 and Century 23 Theater buildings and an existing restaurant building. In addition, the environmental impact report evaluated regional transportation conditions in the project area, identified deficiencies within the transportation system and evaluated potential solutions including interchange improvements for Interstate 280 at Moorpark Avenue and Winchester Boulevard.
In other San Jose construction news, Apple has plans to develop another 4.1 million square feet in North San Jose during the next 15 years, accommodating an additional 20,000 employees. Moreover, Adobe's expansion plans will add 3,000 employees and Google's plan will add 20,000 to 50,000 employees in downtown.
---
as per our monitoring this Story originally appeared
* : ) here → *
{feedtitle}

Silicon Valley Office Space Race Gives Way to New Campus